Winter 2017 Vol. 8 Issue 1
Greetings from Grande Shores!
The Holidays have come and gone and 2017 has arrived to beautiful weather and sunny skies! Now is the perfect time to travel to Myrtle Beach before the crowds arrive. To make your reservation at Grande Shores please call 1-877-603-9210 or visit
GrandeShores.com
.
The managers and staff at Grande Shores live by the motto, "We must keep our resort moving forward!" We are always focused on finding ways to refresh the quality of our resort offerings, and no small detail goes unnoticed. Our goal for each year is to add something our returning guests will notice as new. This goal was exceeded in 2016 with many improvements to our rooms and amenities.


This past year, we completely resurfaced our outdoor pool deck with a new interlocking paver system. This upgrade is not only more pleasing to the eye, but also safer for our guests. We receive positive comments several times per week from guests who are thrilled with the new look of the pool deck.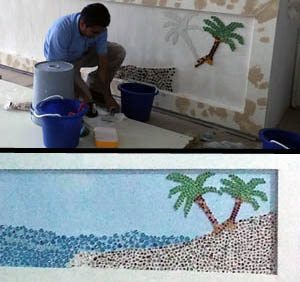 Every year, we close our indoor pool for a week to clean and paint to prepare for the new season. Last year, our kiddie pool was resurfaced so the little ones' toes will feel welcome and at home while splashing around! Ana in our Engineering Department also helped create a mosaic on the wall next to our indoor hot tub. It truly sparkles at night! I know our guests will enjoy the beautiful mosaic while relaxing in the warm bubbling waters of our hot tub.


Our homeowners are constantly upgrading their condos. Last year, many condos were upgraded with new mattresses, kitchen granite, and wall resurfacing which included a new wall color. We are sure you will also notice the new artwork and lamps our owners have installed.
If you are a fan of our hotel rooms, you will enjoy the brand new bathroom fixtures we added last year. We love the way the new fixtures sparkle! We are excited to announce that beginning this month, we will be replacing all mattresses in our hotel section with pillow top mattresses. We are always listening to our guest feedback and are happy to be moving forward with this upgrade!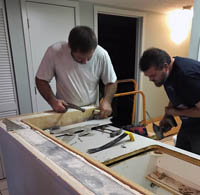 This Winter, we were busy making improvements to areas of the resort mosts guests do not see. Upgrades to our fire system will allow our guests to sleep in comfort knowing we are doing our best to provide a safe place for you and your family. We all enjoy a nice shower when returning from the beach and our new boiler will guarantee no shortage of hot water!


As you can see, we love making changes and always "Moving Forward" for our guests. We are excited to begin planning our improvements for 2017 and beyond!
Sincerely,
Debbie Braden, Manager at Grande Shores
1st Annual Gingerbread House Contest
This Holiday season, we hosted our 1st Annual Gingerbread House Decorating Contest. We were impressed with the creativity of our staff! The competition was close, so we asked our Facebook friends to vote for their favorite.


Congratulations to our Homeowners Department for winning 1st prize! Brenna and Amanda did a fantastic job creating their beach-themed gingerbread retreat!


We look forward to making this an annual tradition!


Always Giving Back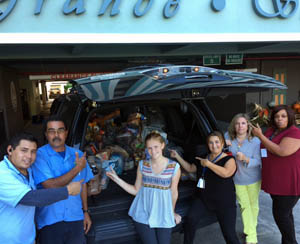 As many of you know, Horry County and surrounding areas were affected by Hurricane Matthew this past October. We are happy to say we recovered quickly from the wind and rain, but many of our neighbors suffered extensive flooding. We reached out to our staff and guests to help out and the results were amazing to say the least. Due to the generosity of our guests and staff, we came close to filling the entire back of a van during our first food collection.


Thank you to everyone who contributed to the success of this food drive. We are fortunate to have such generous and compassionate guests and staff.
Heather has been part of our Reservations team for almost two years and has been a great asset to our company. Heather was our Star Agent of the Month 3 times throughout 2016. Most of her success is due to her stellar customer service skills! Management often receives feedback from guests who want to share their positive booking experience with Heather.
Heather's hard work and dedication has paid off as she is transitioning into a new role within our Internet Services Department. Congratulations Heather! We are certain 2017 will be another successful year for you!
News from the Beach
The Track Myrtle Beach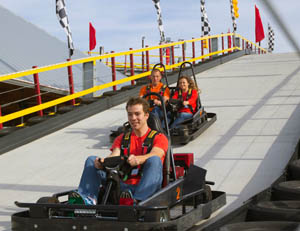 Making it's debut to the Myrtle Beach area is the Track Recreation Center, promising one-stop action-packed fun for the entire family.


The Track features two multi-level elevated go-kart tracks, the first and only of their kind in Myrtle Beach! The multi-level track gives drivers a hybrid go-kart roller coaster experience. At the center of The Track is a nearly 6,000 foot air conditioned, indoor arcade with something for every age!
The Track's signature track, Wild Woody, takes drivers up three levels and then circles back down three levels for the ultimate thrill! Younger drivers can enjoy a day of driving on the Rookie Karts and Kiddie Karts.
For more information about The Track Family Recreation Center, please
Click Here
.
From The Golf Desk
First of all, I would like to take the opportunity to thank everyone for a remarkable year in 2016. I hope you and your families had a wonderful Holiday Season.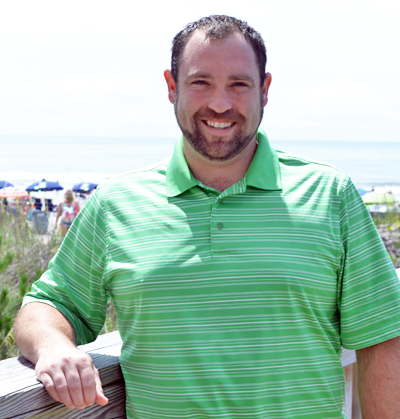 Looking forward in 2017, the Myrtle Beach Golf industry is offering some great deals. By popular demand, we are continuing to offer gift card packages where you receive either a $100, $150, or $200 gift card valid at the courses for food, beverage, merchandise, and same-day replay when you play 4 to 6 rounds at select courses. So far this year, the hottest package has been the Elite Package (Thistle, Tidewater, Prestwick, and Arrowhead) where you can save up to $50 per round for booking early and playing 3 rounds or more. The earlier you book the more you save! With the Elite Package, you also receive a Free 9 Hole Replay valid on the day of play. The Stadium Package has also been in high demand this year. Choose 3 or more rounds from Tidewater, Blackmoor, Sea Trail Jones, Sea Trail Byrd, Sea Trail Jones, and Crown Park and you will receive a hot dog, chips, snack, and a drink on each day of play at the courses. For more information, give us a call or email
Golf@GrandeShores.com
.

Until next time, go play some great golf!
Scott Thrailkill,
Director of Golf - Grande Shores, Myrtle Beach SeaSide Resorts, MyrtleBeachGolf.net, and TeeUpMyrtleBeach.com.
Guest Comments
"I love this hotel. Only place I stay when I visit Myrtle Beach. Friendly staff, great prices, away from al the craziness! If you want a quiet, pleasant trip to just relax... this is the place to come!" Aleks S., Barberton OH


" Great place for a family Christmas get together. Had plenty of room and with the full kitchen had no problem fixing food for Christmas. Could park nice and close to the room and was covered. The staff was just great and the free movie rentals very nice." Notwalaj, Rock Hill SC"
" We were impressed with everything! Justin and Zoey in the front office were amazing! Very accommodating and super friendly!" Jennifer H., Inverness FL

Click here to read more Guest Comments.
Beach Travel Tips
Packing for the beach can seem like a daunting task. These tips below will make it a little bit easier for you!
Put Your Aloe Vera Gel in the Fridge: Pure aloe vera gel is awesome for soothing any kind of sunburns or stings that you might get at the beach. It's even better when it is chilled, because it takes away any kind of pain in a few seconds. Try storing aloe vera in the refrigerator and take it out right before you go to the shore.
Bring Along Lots of Water: Staying hydrated at the beach is an absolute must, so be sure to bring along lots of bottled water. If you don't have a cooler or don't plan on bringing one, store some of the water bottles in the freezer for a while. They'll stay nice and cold longer throughout the time you're at the beach.
Bring Cheap Sunglasses to the Beach: Don't bring your $200+ sunglasses to the beach! Buy some cheaper versions instead. Cheaper sunglasses should always offer the same amount of UVA and UVB protection. If you lose your inexpensive sunglasses, you won't be as concerned as if you lost your pricier ones!
Combine the cocoa, sugar, and pinch of salt in a saucepan.
Blend in the hot water.
Bring the mixture to an easy boil while you stir.
Simmer and stir for about 2 minutes.
Stir in 3 1/2 cups of milk and heat until very hot, but do not boil!
Remove from heat and add vanilla.
Divide between 4 mugs.
Add the half-and-half cream to the mugs of cocoa to cool it to drinking temperature.