Newsletter
There is always something going on here at Grande Shores - guest activities, room upgrades, parties and new additions to our staff. 
We publish the Grande Times once a quarter - so come and check us out each season. Sign up to receive our emails and automatically receive these newsletters in your inbox. 

    Summer 2014                         Vol. 5 Issue 3
Greetings from Grande Shores!
Summer has finally arrived in Myrtle Beach!
School is out and it's time for family vacations. We spend months upgrading, beautifying and preparing for you, our guests to arrive. We think this summer will to be the best one yet and we couldn't have done it without all of you! If you haven't made your summer vacation plans yet, its not too late! Call our Vacation Planners today and they will help you plan your trip!
News from Grande Shores
TripAdvisor Award Received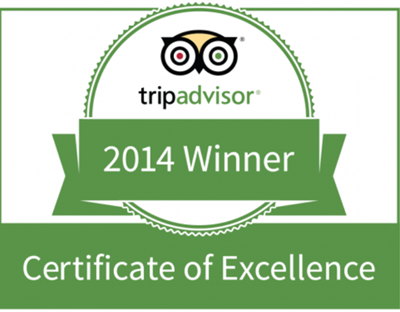 Grande Shores has been awarded the 2014 TripAdvisor Certificate of Excellence. The accolade, which honors hospitality excellence, is given only to establishments that consistently achieve outstanding traveler reviews on TripAdvisor, and it is extended to qualifying businesses worldwide.
Establishments that have been awarded the Certificate of Excellence are located all over the world and they represent the best of the businesses on TripAdvisor. Businesses must maintain an overall TripAdvisor bubble rating of at least four out of five. Additional criteria include a business' tenure and popularity ranking on the site.
"Winning the TripAdvisor Certificate of Excellence is a true source of pride for the entire team at Grande Shores and we'd like to thank all of our past guests who took the time to complete a review on TripAdvisor," said Debbie Braden, Manager at Grande Shores.
Landscaping at Grande Shores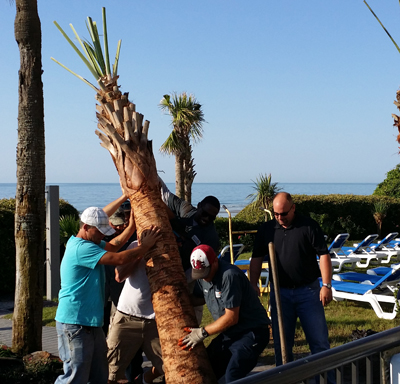 Our Grande Shores team spends much time making our resort a beautiful place for our guests. We have moved our showers away from the pool deck to relieve congestion. We also have planted two new palm trees and other landscaping elements where the showers stood.
Believe it or not, it actually took six men to put a tree into the ground and the end results were just perfect. We love this new landscaping and we hope that our guests do too!
Karaoke at Shoreline Cafe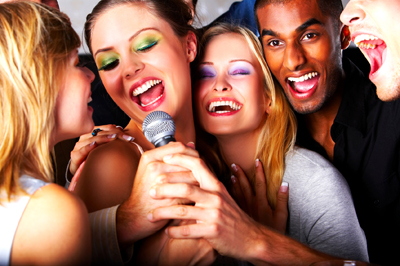 This summer we are hosting Karaoke in Shoreline Cafe' every friday night. Karaoke is a fun family affair!
Shoreline Cafe is also hosting Family Fun Night on Wednesday nights. During Family Fun Night, a discounted children's menu is offered and our activities director joins in to make sure that everyone is having fun!
New Sitting Areas
We enjoy finding just the perfect elements to enhance our guests' experience and comfort at Grande Shores. Recently, we have added some colorful Adirondack chairs along with our new garden just outside our of indoor pool. It is a great place to soak up the sun while your kids enjoy the indoor water features.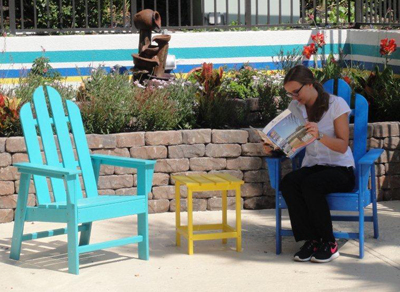 We have also added a quaint bistro set just outside the entrance to Shoreline Cafe'. This is another great area to wait for your family to finish up their meals or just to sit and watch the world go by.
We are especially proud of our five piece lounging area as you walk to the beach. These conversation pieces include a full size couch, two rocking chairs, and tables. We love the way that it dresses up this large space and creates a cooler place for families to get out of the sun.
We love dressing up Grande Shores and we certainly hope that our guests can notice these great additions on their next visit!
Vacation Layaway
We are offering a new option for deposits when you book your reservation with Grande Shores! You only have to pay $100 of your deposit when you book your reservation. The remainder of your deposit is due 30 days after the time of booking. Don't miss this special offer before it is gone!
Fourth of July at Grande Shores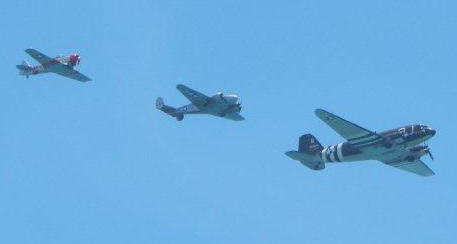 Fourth of July is always a fun time at Grande Shores!
Many of our guests enjoyed playing corn hole on our oceanfront grassy lawn. We even had a special patriotic drink that was red, white, and blue at our pool bar known as "The Yankee Doodle". Around lunchtime we were treated to "Salute from The Shore" as a number of vintage military aircraft flew down the coastline. For the holiday, we kept our pool bar and grill open for extended hours. We capped off our Fourth of July by watching fireworks up and down the beach. It was such a fun July 4th that we are already excited about next year.
News from the Beach
The Top 10 Myrtle Beach Attractions For Thrill Seekers
Myrtle Beach is fun for all ages and for all members of the family. There are so many attractions that there is bound to be something for everyone. Myrtle Beach may not be known for it, but we do have our share of rides and attractions that will thrill even the most avid thrill-seekers! There are the new venues and then there are the familiar ones. There are quite a few ways in Myrtle beach to get your feet off of the ground and get that feeling of butterflies in your stomach!
10. The Pavilion Nostalgia Park
The Pavilion Nostalgia Park provides a sample of the old amusement park that stood in downtown Myrtle Beach for decades. Popular rides include the swings, the pirate ship, and the carousel. This year the amusement park is boasting new rides that will delight thrill seekers of all ages. The new rides are Speed XL, The Rocket Flyer, Freak-Out and The Giant Slide. The Rocket Flyer towers 190 feet above the ground. Riders will sit in one of four giant rockets that will swing around the tower at high speeds. Speed XL is a ride that launches riders at high speeds. Freak-Out is a slingshot ride. The Giant slide is exactly what it sounds like. It is a huge slide that is 65 feet tall. The Pavilion Nostalgia park can be found at Broadway at The Beach. For more information please
Click Here
.
9. Broadway Grand Prix

The Broadway Grand Prix is a full-throttle fun-for-everyone attraction! The park boasts 19 attractions, including 7 go-Kart tracks, 6 kids' rides, 2 miniature golf courses, a rock climbing wall, The thrilling Sky Coaster, an indoor arcade, and more! The Broadway Grand Prix is located in the site of the old Nascar Speedpark.
Click Here
for more information about the Broadway Grand Prix.
8. Myrtle Beach Skywheel
The Myrtle Beach Skywheel is an enormous Ferris wheel that stands 187 feet tall. It is the tallest wheel in the United States east of the Mississippi River. For those who are not afraid of heights, the Skywheel boasts some of the most beautiful panoramic views of the east coast.
Click Here
about the Myrtle Beach Skywheel.
7. Myrtle Waves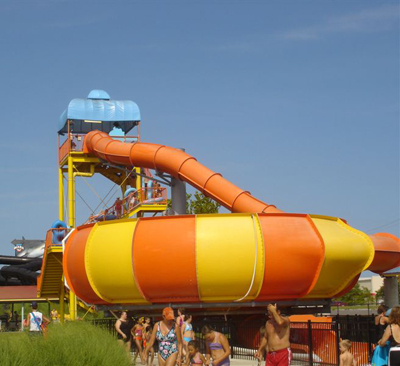 Myrtle Waves is the largest water park in South Carolina. It has twenty acres of swerves, curves, waves, chutes, and more than one million gallons of water. Myrtle Waves it the place for thrill-seekers who like their fun to be wet and wild! All rides are included in the price of admission. Myrtle Waves is a good value and it is definitely a good place to make a big splash for just a little cash!
Click Here
for more information about Myrtle Waves
6. JetPack Adventures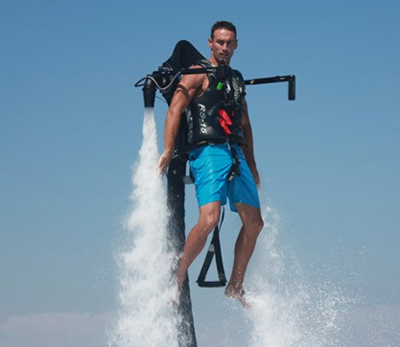 North Myrtle Beach JetPack Adventures is the ultimate in adventure in Myrtle Beach and it provides everyone with the experience of flying the world's first recreational jetpack. Flying a jetpack is like no ride that you have ever experienced. As soon as sufficient lift is applied, you and the jetpack become weightless and levitate in the air. This jetpack will allow you to soar up to thirty feet in the air, walk on water, go for speed runs, dolphin dive, or just hover over the surface.
Click Here
for more information about North Myrtle Beach JetPack Adventures.
5. Sea Thunder
Experience the power of man-made machinery and the beauty of nature in one tour with the Sea Thunder. Riders will feel the adrenaline rush through their veins as this high tech boat bounces over the waves while approaching top speed. This two-and-a-half hour tour is suitable for the whole family. It starts out as a leisurely ride on the scenic intracoastal waterway. Then things get really interesting as the boat, which has an engine with three times as much horsepower as a NASCAR racer, roars out into the ocean for a top speed tour of the coastline! Be prepared to get wet on the Sea Thunder!
Click Here
for more information about taking a tour on the Sea Thunder.
4. Family Kingdom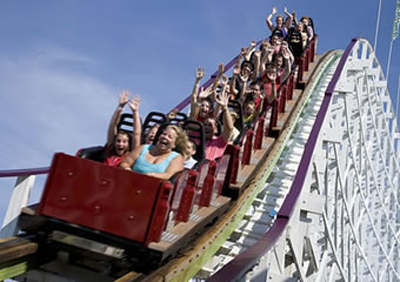 For the young and the young at heart, Family Kingdom offers some of the most memorable and adrenaline pumping experiences in Myrtle Beach! The park boasts more than 35 thrilling rides right in the heart of Myrtle Beach.
Thrill rides include the Galleon, the Hurricane, Scrambler, and the Twist-N-Shout Coaster. The Sling-Shot is a fairly new ride that features a 100 foot free fall. The YoYo swings thrill-seekers to new heights. The highlight for any thrill-seeker is the wooden Swamp Fox Roller coaster. This coaster has been a Myrtle Beach landmark since the park opened in 1966. With 2,400 feet of all wooden track, this ride takes visitors on a thrilling trip while treating them to breathtaking ocean views!
Click Here
for more information about Family Kingdom.
3. Parasailing
For a view of Myrtle Beach like no other, try out a parasailing trip! Sail high above the water with a friend or two to experience the thrill of flying. You won't believe the views that you'll take in while parasailing above the Atlantic Ocean. You will be able to view the Myrtle Beach coastline from up to three hundred feet in the air!
2. Airstrike, Sling Shot, and Skyscraper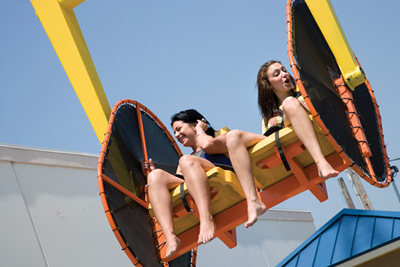 The Airstrike, the Sling Shot, and the Skyscraper are three of the most thrilling attractions located at 3rd Ave South in Myrtle Beach. The Airstrike combines extreme sensations and spectacular movements. Passengers are seated on spinning vehicles and are back to back with dangling legs. This ride can perform 360 degree rotations and its variable speed can reach a max force of 3.6 Gs and it can reach speeds of up to 62 miles per hour!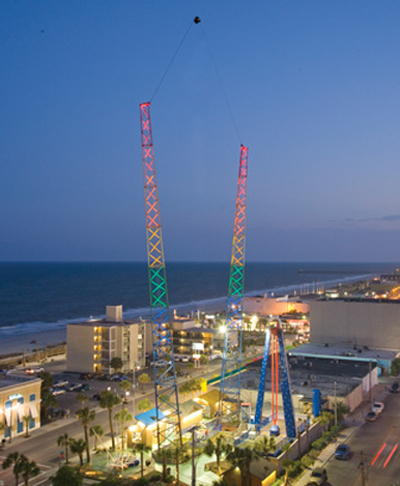 The Sky Scraper is unlike any thrill ride that you have ever experienced. It features a giant propeller consisting of two arms that spin guests in a full circle. Four riders, two on each arm, sit in open car with their feet dangling on opposite ends of the propeller. The arms of the propeller quickly rotate, spinning riders sixteen stories in the air at speeds of up to 55 miles per hour. At its highest point, riders are upside down 160 feet high.
The SlingShot is by far one of the most exciting vertical amusement rides around. Passengers are propelled over 300 feet at speeds of up to 100 miles per hour. Up to two riders at a time lie on their backs and face the sky. Suddenly, they are propelled into the air at mind-numbing speeds, only to plummet back down to earth only to do it all over again. With a little bit of guts and teamwork, you and your riding partner can even get the ride capsule spinning in the air! For more information about these rides please
Click Here
.
1. Sky Dive Myrtle Beach,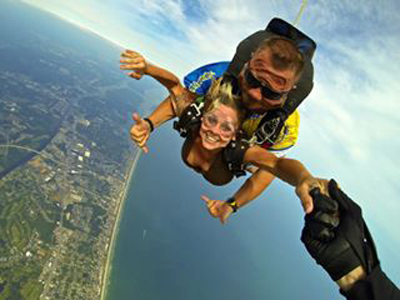 The most thrilling attraction in Myrtle Beach is Skydive

Myrtle Beach. Skydiving will be one of the most memorable and exciting experiences of your life! You

will ride 2 miles above North Myrtle Beach in their very own PAC P-750-XL, one of the best skydiving planes in the world. The thrill will continue with a 120 mile per hour free-fall followed by a five minute parachute ride with breathtaking views of the North Myrtle Beach coastline! This will surely be something that even the most seasoned thrill-seeker will enjoy. For more information about Sky Dive Myrtle Beach please

Click Here Hollywood Wax Museum

Myrtle Beach's newest attraction brings a bit of Hollywood to the Grand Strand. The Myrtle Beach Hollywood Wax Museum is now open for business.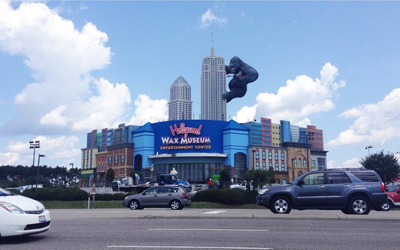 Located in the intersection of Highway 17 and 21 Avenue North in Myrtle Beach, the Hollywood Wax Museum is the one of the few wax museums in the country that are devoted entirely to celebrity figures. The two story museum will bring muesum-goers into the world of Hollywood stars and allow them to get close to some of the most famous
people in show businesses recreated so realistically that you'd think that they were alive.
From Robert Downey Jr. to Robert De Niro, to Julia Roberts, there are wax figures for everyone to meet! For More information about the Hollywood Wax Museum please
Click Here
.
On The Links
Hello! My name is Scott Thrailkill. I wanted to take this time to introduce myself to you. I am the new golf director at Myrtle Beach SeaSide Resorts. I was raised in a small town in Southern Illinois. At the age of 5, I discovered my love for the game of golf. I played golf in high school, college, and I still love the game now as much as I did then.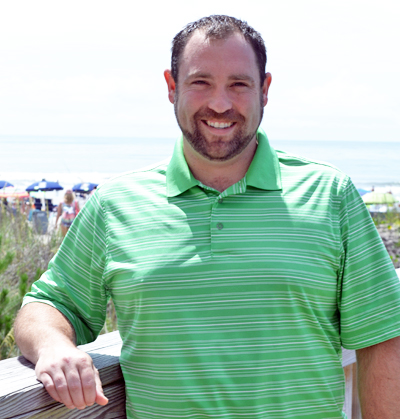 Over the past ten years, I have worked on both the golf course and golf package sides of the business. Although the golf course was great, there is something to be said about providing golfers with an experience of a lifetime. As a package provider, my focus is on providing you with the best package that I possibly can.
For me, the game is becoming more fun every day. Now more so than ever, since I get to take my 2-year-old little girl out to the course late in the afternoons to enjoy the game that both her mother and I love so much. This kind of passion is what I will bring to each and every one of your golf vacations.
With six resorts and over 85 courses in the area, we are sure to have a package that will work for you. If not, we can customize one that will. Our six resorts offer a wide array of acommdations options from standard hotel rooms to luxurious 3 bedroom oceanfront condos. Also, we have resorts in both Myrtle Beach and North Myrtle Beach,
so whether you are looking to play north or south - we have you covered.
We have released several of our new fall and winter packages and I have seen some really good specials, including a four round special where you can receive a $100 Gift Card for each person playing. To find out more, please give me a call or send me an
Email
and I will help you plan an amazing golf vacation. I look forward to working with all of you now and in the future. Please "like" us on Facebook at
Myrtle Beach Seaside Resorts Golf Center
for specials, course conditions, and local golf news!