Newsletter
There is always something going on here at Grande Shores - guest activities, room upgrades, parties and new additions to our staff. 
We publish the Grande Times once a quarter - so come and check us out each season. Sign up to receive our emails and automatically receive these newsletters in your inbox. 

    Spring 2014                         Vol. 5 Issue 2
Greetings from Grande Shores!
Spring has finally arrived in Myrtle Beach! We are busy gearing up for Summer 2014 and all of the fun that it will bring. We have been very busy making improvements and upgrading units to make the stays of each of our guests the best that they can be. Make your vacation plans today – call or book online. Our vacation planners are ready to help you plan your memorable beach vacation!
News from Grande Shores
Snowbirds Farewell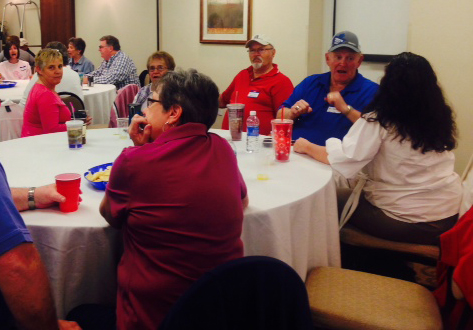 Each winter, we look forward to the arrival of our treasured snowbirds. After months of creating friendships, fun activities, and fun day trips comes the difficult part.
We have to say goodbye. Many of our snowbirds return to Grande Shores year after year and after spending many years with us they truly do become a part of our Grande Shores family. Saying goodbye until the fall or the winter can be sad, but we know that they will return again soon and we will be waiting to welcome them back.
Hotel Room Updates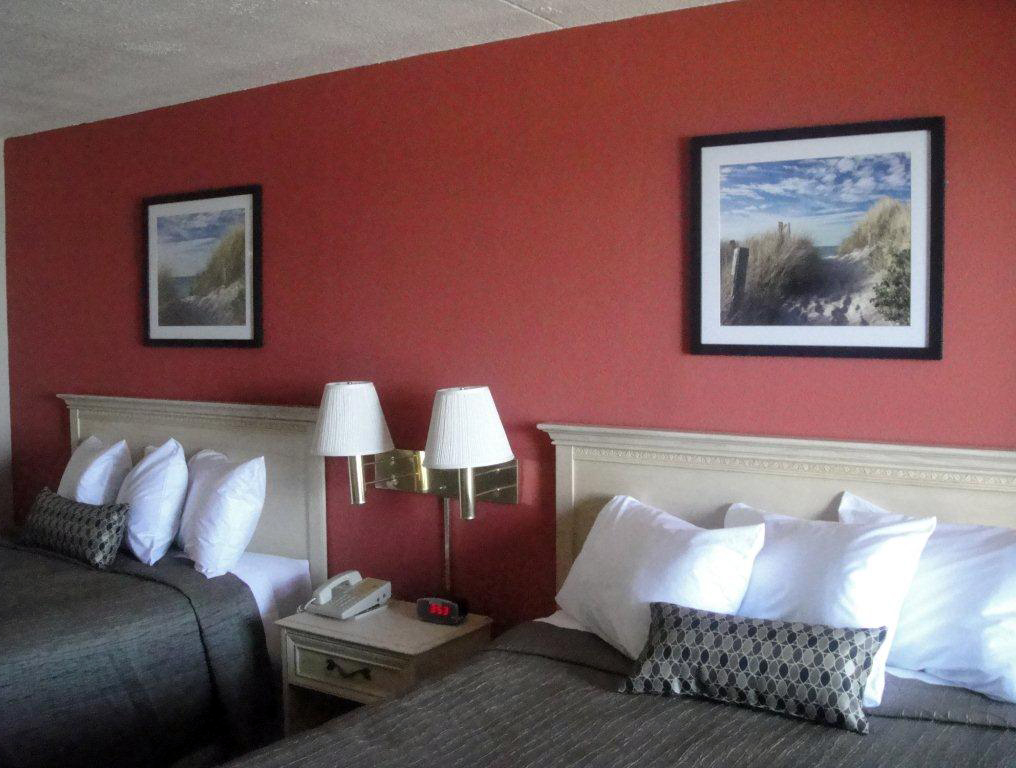 Our engineering staff has been extremely busy sprucing up everything around the resort. We have been working very hard updating our hotel rooms. In addition to a new coat of paint, they have new bedding, new draperies, new bathroom vanities, and new artwork. "We are excited for our guests to see the wonderful changes to our hotel rooms!" said Debbie Braden, manager at Grande Shores.
An Exiting New Amenity is Coming to Grande Shores

We are proud to announce an exciting new amenity beginning in June. Our "Now That's Entertainment" package is an amazing new service that will provide our guests with unlimited DVD rentals and free or discounted tickets to Myrtle Beach area attractions.
Upon check-in, you will be provided a DVDNow rental card. A kiosk will be available in our lobby for you to rent and return the DVDs. From the kiosk you can actually view previews of the movie that you would like to rent. This wonderful service will be available to all of Grande Shores's guests.
Shoreline Café Updates
Shoreline Café is a great place for guests to gather for a hearty breakfast or a cool drink and dinner after a long day of vacationing.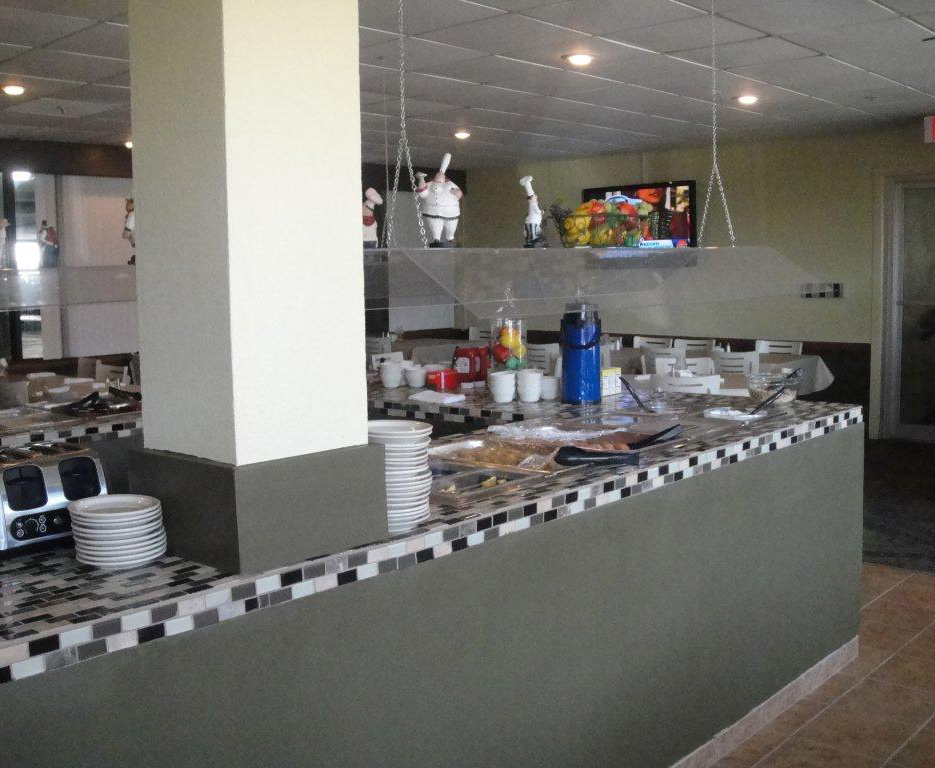 We have remodeled our buffet with new decorative tiles, installed new lighting fixtures in the bar area, and purchased new table covers. "I am sure our repeat guests will enjoy the new buffet tiles and lighting, and we certainly hope our first-time visitors will enjoy the atmosphere."
Ellis R. Barnes Joins Grande Shores Staff
We are proud to welcome our new Director of Engineering, Ellis R. Barnes. Ellis moved to Myrtle Beach in 20113 from Pigeon Forge, Tennessee with his wife and four children.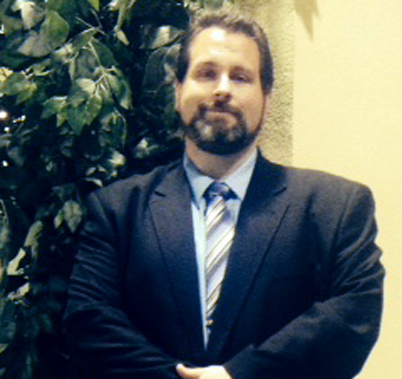 Ellis and his family relocated because he is an Unlimited General Contractor and wanted to expand his company to Myrtle Beach. At that time, Myrtle Beach was experiencing an economic boom. Ellis started off by building two developments in the Myrtle Beach area. After these developments, he built over thirty commercial buildings and plazas in South Carolina.
Ellis then traveled along the east coast from Florida to Pennsylvania.
During this time of traveling, he learned a very valuable lesson: Money is not everything. When his children were small and not in school they could travel with him. However, once they started school, he was all alone. He realized how quickly his children were growing up without him. He realized he needed a change.
Ellis decided to find a job that would keep him in the area. We are so thrilled that he did because he found us! Ellis came to Grande Shores a few months ago. He is a very patient manager and he has made a big difference in our engineering department. "We are thrilled to have Ellis as a part of our Grande Shores family and we hope that he stays for many years to come." Says Debbie Braden, Manager at Grande Shores.
News from the Beach
10 Things to Do in Myrtle Beach For Less than $25
While on vacation in Myrtle Beach, stretch your vacation dollar to the max. From free events such as concerts and fireworks shows to a relaxing game of miniature golf, there are dozens of ways for a family of four to have four or five hours of fun and not break the bank!
1. Relax on the Beach
Of course this is the number one item! Don't forget your suntan lotion, a beach towel, and a good read!
2. Outdoor Concerts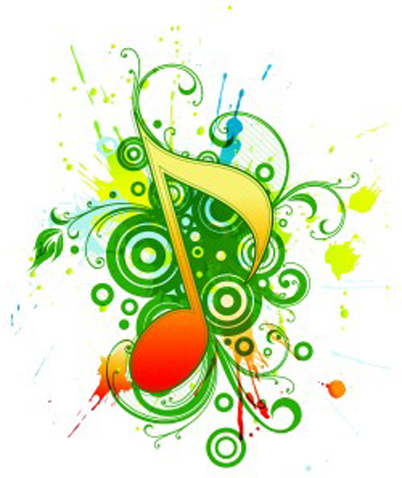 Music is the universal language of the world and what better way to enjoy blues, country, rock, and even beach music than sitting on a lawn chair enjoying the fresh air? The City of North Myrtle Beach hosts free concerts on most Thursdays during the summer months. These concerts are either held at the Horseshoe or on Main Street. 2014 acts include Marsha Morgan, Carolina Breakers, The Wannabees, Atlantic Groove, Tru Sol, and Carolina Soul Band.
Tip: Be sure to bring a lawn chair, because seating is not available.
Click Here
for a schedule of concerts.
3. Miniature Golf
Known as the miniature golf capital of the world, there are over fifty themed courses along the Grand Strand with excitement at every hole.
Tip: Check the local coupon books for discounted rates at many miniature golf courses. Children under 2 are free at most establishments.
4. Fireworks at Broadway at the Beach
There are fireworks over Lake Broadway at 10:00 pm every Tuesday and most Fridays all summer long. The fireworks are free. At Broadway at the Beach you can enjoy a few rides at the Pavilion Nostalgia Park, purchase a funnel cake, or buy your favorite Starbucks brew.
Click Here
for more information about Broadway at the Beach.
5. Shelling at Myrtle Beach State Park and Wildlife Observation at Huntington Beach State Park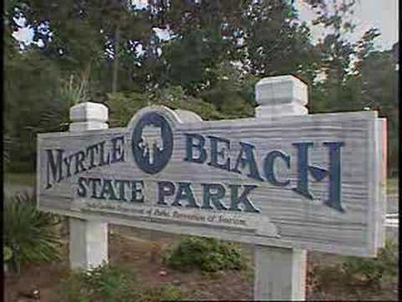 Awesome shells, shark teeth, and more await you at these local spots. For a $5 per person park entrance fee, you can enjoy a wide beach, nature trails, a fishing pier, and more at Myrtle Beach State Park, or for the same low admission fee you can grab your camera and head to Huntington Beach State Park where you can photograph historic Atalaya Castle, observe gators, egrets, and herons in their natural habitat. Don't forget to pack a picnic basket, beach pail, and shovel. Spend time enjoying the great outdoors!.
6. Walking the Cherry Grove Pier
The historic Cherry Grove Pier, located in the Cherry Grove Section of North Myrtle Beach, is a landmark that has attracted both visitors and locals alike since its construction in the early 1950s. The Cherry Grove Pier has the only two-story observation deck at any privately owned pier in the Myrtle Beach Area! With an admission of only $2 per person, you can enjoy a stroll along the 985 ft. pier. It's always fun to watch the fishermen pull in their prize catches and gaze out at the ocean.
Tip: Keep an eye out for the shrimp boats because there are usually a pod of dolphins following not far behind.
Click Here
for more information about The Cherry Grove Pier.
7. Souvenir Shopping at the "Everything Under The Sun Flea Market" in North Myrtle Beach
This is one of the largest indoor flea markets in the area. You'll receive personalized service from over a hundred vendors with thousands of bargains. The Everything Under the Sun Flea Market is open from 9 am to 6 pm six days per week during the summer and Thursday through Saturday during the off-season.
Click Here
for more information about the flea market
8. The South Carolina Hall of Fame at the Myrtle Beach Convention Center
The South Carolina Hall of Fame honors those who have made outstanding contributions to the Palmetto State's heritage and progress. Hall of Fame inductees include Strom Thurmond, Astronaut Charles M. Duke Jr., President Andrew Jackson, and Cale Yarborough.
9. Murrells Inlet Marsh Walk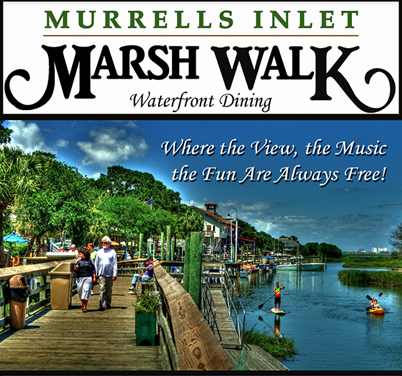 Visit the historic fishing village of Murrells Inlet and experience nature along the Marsh Walk which offers great views of the saltwater marsh, birds, and beautiful scenery. Home to many waterfront restaurants, music is in the air once evening rolls around. The Marsh Walk is free to enjoy. For more information about the Murrells Inlet Marsh Walk please
Click Here
.
10. Franklin G. Burroughs – Simeon B. Chapin Art Museum
Admission to the Franklin G. Burroughs - Simeon B. Chapin Art Museum is free and they offer many diverse exhibits. Their collection of donated works from both local and national artists continues to grow. Maps and historical prints of the area fill the walls in addition to other exciting exhibits like sculptures, photographs, paintings, and any type of art that you can imagine.
New Beach Shading Regulations
The City of Myrtle Beach has approved a change in its beach regulations that restricts the use of tents and other shading devices except for umbrellas from Memorial Day.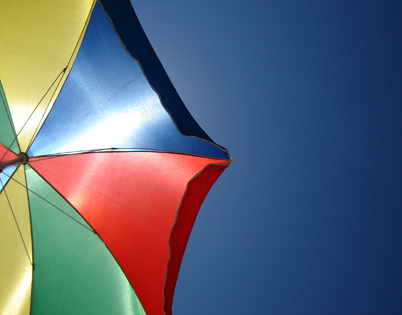 Umbrellas up to seven-and-a-half feet in diameter are allowed in line with or behind the established umbrella line, but no other shading devices are permitted during the
summer months. From the day after Labor Day until Memorial Day tents up to 12 by 12 feet and less than nine feet tall may be used behind the umbrella line and 10 feet apart.
"Tents certainly are convenient, but they were so plentiful at peak times and locations that they blocked access and visibility to the water's edge, affecting public safety and everyone's enjoyment of our beautiful beaches," Said a City of Myrtle Beach spokesperson.
Employee Spotlight
Katie Imes | Night Manager
Our featured employee for Spring 2014 is Katie Imes. Katie is our night manager. We first met Katie when she worked security for us and she really shined in that position.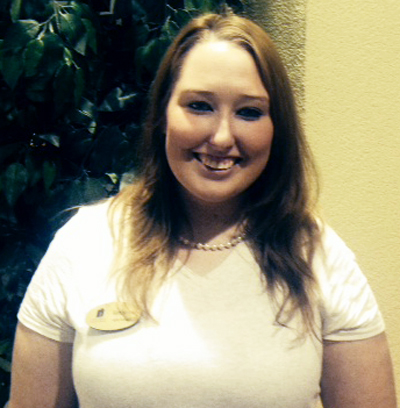 Katie left Myrtle Beach for a while, but we were fortunate enough to have her return as a desk agent. Katie was such a great asset to our resort that we decided to promote her to night manager when that position opened up a year ago.
If a guest has an issue, you can depend on Katie to find the best possible solution. She has a young daughter so her personal time is taken up with having fun and being a good parent. "We are fortunate to have Katie as a part of our team. We hope she works with us for many years!" says Debbie Braden, Manager of Grande Shores.
Groups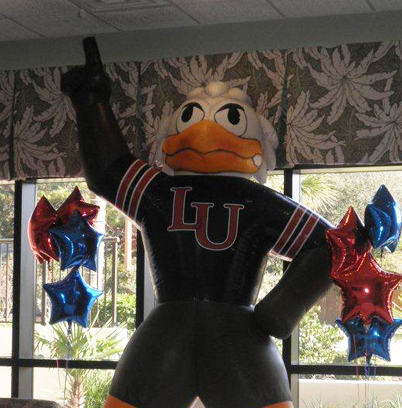 This was our second year hosting the Men's and Women's basketball teams from Liberty University for the Big South Basketball tournament that was once again
held in Myrtle Beach. Both the Liberty Men's and Women's teams walked away as champions of this tournament last year. This year both teams played very hard but they didn't make it all the way through. We were very proud of their efforts! Our Group Sales Department is excited to welcome them back next year! GO FLAMES! Visit us
online
for more details and to contact Group Sales, call us at 1-877-624-3680.
Guest Comments
"This stay at the Grande Shores was a very relaxing weekend. Staff and all were very nice, we enjoyed the atmosphere and we will come back!"
Denise Potts
"We have been coming to the Grande Shores since our retirement in 2011, and we enjoy our week-long stays in February and April. We cannot wait until our grandchildren can come with us so we can show them an exceptional vacation!"
Amy Beckley
"We had a fantastic time! It was only one night, I wish it were longer. My husband brought me down for my 31st birthday on the recommendation from my dad who stays every year with the helicopter pilot reunion. The value for the price was amazing! The front desk staff even remembered it was my birthday and wished me well! We had happy your, with some appetizers and beverages and were entertained by the karaoke. It was nice not to have to leave the property for food and drinks. I look forward to returning very soon and staying longer so that we may use the indoor pool etc! As a matter of fact we were so impressed I told my boss and his wife to Grande Shores for his birthday two weeks after mine and they had a fantastic experience as well."
Jessica Gilbertsen
Click
here
to read more Guest Comments.
Fun in the Sun
American car horns beep in the tone of F.
The Eisenhower Interstate System requires that one mile in every five must be straight. These straight sections are usable as airstrips in times of war or other emergencies.
Rhode Island is the smallest state with the longest name. The official name, used on all state documents, is "Rhode Island and Providence Plantations."
On The $100 Dollar bill, the time clock on the clock tower of Independence Hall is 4:10.
Monthly Recipe - Watermelon Sugar Cookies
2 cups all-purpose flour
1 1/2 teaspoons baking powder
1/2 teaspoon salt
1/3 cup butter
1/2 cup shortening
3/4 cup white sugar
1 egg
1 tablespoon milk
1 teaspoon vanilla extract
3 drops red food coloring
1/3 cup mini semi-sweet chocolate chips
1 1/2 cups confectioners' sugar
2 tablespoons water
3 drops green food coloring
Instructions
Combine flour, baking powder and salt in a small mixing bowl.
Beat butter and shortening with an electric mixer at medium speed until fluffy; gradually add sugar, beating well. Stir in egg, milk, and vanilla Gradually add flour mixture to creamed mixture, mixing well. Add a small amount of red food coloring to color dough as desired, beating until blended. Shape dough into a ball; cover and chill at least 3 hours.
Preheat oven to 375 degrees F (190 degrees C).
Divide dough in half; store one portion in refrigerator. Roll remaining portion to 1/4 inch thickness on a lightly floured surface. Cut dough with a 3-inch round cookie cutter; cut circle in half. Place on an ungreased cookie sheet. Press several chocolate mini chocolate chips in each cookie. Repeat with remaining dough.
Bake for 8 to 10 minutes (do not brown). Cool on wire racks.
Make frosting: Combine powdered sugar and water, mixing until smooth. Add a small amount of green food coloring, mixing until blended. Dip round edge of each cookie in green frosting, and place cookie on wax paper until frosting is firm.
Decorate to look like Watermelon slices and enjoy!